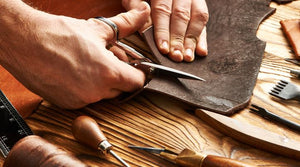 History of Leather Hand Work
The first findings about leather processing were revealed in the Neolithic settlement Çatalhöyük 'te. From the glorious civilizations of Anatolia, it is known that the Hittites developed the art of tanning with aluminum between 2000-1200 BC. With the emigration of the Turks from Central Asia to Anatolia, the art of leather processing continued to develop. Between 1077 and 1307, the Anatolian Seljuk period reveals a synthesis of the local cultural accumulations of Anatolia with the culture they carry from the Turks' mainland.
In the Ottoman Empire period, the leather master of the Turks made great progress with the support of Ahis. Fatih Sultan Mehmet had built 360 salamanders and 360 tanneries in the vicinity of Yedikule in the conquest of Istanbul, now called Kazlıçeşme. In the 16th and 17th centuries Turkish culture was the most brilliant period. The "sahtiyan", a Turkish method of leather production, was accepted internationally in this period and entered the English literature as "Turkish Leather".